Certification: QQI Level 6 (Code: 6N3326) Duration: 5 Days Price: €850
Training Delivery & Evaluation Course
Training Delivery & Evaluation is often called "the new Train The Trainer".
Top 6 benefits of this course:
Achieve a QQI Level 6 certification
Learn best-practice training delivery techniques
Develop training evaluation skills
Gain confidence to train others
Build a structured training framework
Get feedback from industry professionals
Who is this Training Delivery & Evaluation Course for?
Training Delivery & Evaluation is a course for anyone who wants to gain certified, professional training skills.
If you would like to become a full or part time trainer, have a need to train others as part of your role or would like to refresh your existing training delivery skills, this course is for you.
Topics covered on this course include:
Training concepts and the Training Cycle
Preparing for training delivery
Delivery skills: engaging, effective training
Creating a positive learning environment
Coping with challenging participants
Evaluation techniques
Learning Outcomes:
After completing Training Delivery & Evaluation, you will be able to:
Deliver training to others with confidence
Understand the Training Cycle
Establish a thriving learning environment
Handle unexpected questions and challenging behaviours
Evaluate training sessions
Give effective, constructive feedback to trainees
What Certification Will I Achieve?
When you complete our Training Delivery & Evaluation course and pass all the relevant assessments, you will receive a QQI (formerly FETAC) Level 6 certification.
Popular Course Locations:
We can run this course for in-company bookings in any location around Ireland. Currently, our most popular locations are Dublin, Cork, Galway, Limerick and Kerry.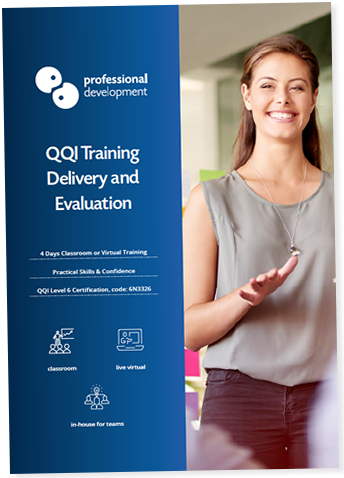 Download our Free Training Delivery & Evaluation Course brochure
Full course details, fees & procedures
Course dates and locations
Details on QQI certification
Download Brochure